On Saturday 5th March 12 members plus HBC Tressell ward councillors, Ali Roark and Peter Chowney gathered at the Ore Community Centre for the Annual General Meeting covering 2021.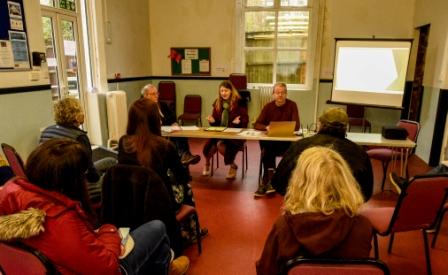 Chair of the Trust, Jim Breeds presented the Annual Report.
"This has been my third full year as Chair and I continue to be incredibly pleased that we actively pursued our objectives during 2021, despite a number of continuing challenges that we have faced during the year, particularly the continued impact of coronavirus and the lockdowns that affected our volunteer work. We did not have to suspend our volunteer sessions in the same way that we had done in 2020, but we believe the continuing concerns over the pandemic affected the willingness of people to come along to our volunteer sessions.

The trustees continued to hold monthly meetings. Many of these were held online, but we did hold a small number of face to face board meetings before the new Omicron variant had us back to meeting online at the end of the year. Our volunteer work continued to follow the Covid policy and Covid Secure procedures to ensure that our wonderful volunteers were kept safe. Work on essential matters, such as repairs to vandalised bridges over the Ore Valley Stream, new steps on some of the steep footpaths, and work on the community garden were carried out safely. We continued to manage the land that we own and to maintain the footpaths throughout Speckled Wood, the Ore Stream and the bridges over it. We also continued to pursue our ultimate goals of a community-owned woodland for all ages and abilities, including play space for children, disabled access and a range of other amenities.

Our crusade against the invasive knotweed that is present in some parts of the valley was set back somewhat by the pandemic, but work has continued on this, which will remain a constant threat until we are finally able to eradicate it. We thank our friends at The Conservation Volunteers (TCV) for their work on this project.
Discussions have continued with Hastings Borough Council (HBC) about the prospects for taking over the management of other land in the Ore Valley, principally in the Lower Ore Valley, although we are largely now playing a waiting game while HBC progresses the matter internally.
I was also pleased at the contribution that continues to be made to our funds by our participation in shopping-related schemes, namely the Co-op members scheme, and Amazon Smile.
I would like to thank my fellow Trustees and the volunteers for the great work carried out during this period. Our community engagement has been good to see this year, including our open days and other events. Thanks also must go to the Greener Futures volunteers and the project that recruits and supports them for their work on the footpath steps.
As always, we continue urgently to need new members, active Trustees, volunteers and funds to support and enable further progress. I hope that you all enjoy reading the following pages describing our projects during the reporting period. We thank you all for your continued support. Please take a look at our website and follow us on Facebook and Twitter if you do not already do so."